Your trip does have change (this includes if we have to make a spelling change to correct a name) and cancellation penalties once deposit or full payment is received. The amount of the penalty varies greatly and can be non-refundable. This will depend on the type of change and when the change or cancellation is made. To protect yourself Sun n Beach Travel STRONGLY ADVISES that you purchase travel insurance. Apple Vacations total vacation security plan is AV-OK.
Cancellation/Change Waiver: Cancel or change for any reason† up to the time the flight check-in is closed. Non-refundable scheduled airfares and airlines penalties are even covered. Choice of vacation certificates or cash back for all vacation types including scheduled air.
Best Price Guarantee: If we advertise a discount on the exact same vacation you have booked, you can claim the savings prior to departure.
Travel Protection: High quality travel insurance with trip interruption, baggage, medical and more.
Your choice of Cash-Back* or Travel Certificate Programs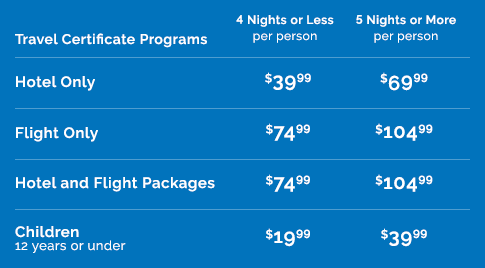 *CASH-BACK in original form of payment: add only $30 to above prices.
Purchase AV-OK Total Vacation Security Plan within 7 days of your initial booking (except for group passengers who are subject to unique contracts**). For bookings created within 14 days of departure, AV-OK must be purchased at time of booking.
To review the insurance plan please
click here
. The purchase for the insurance has to be paid for within 7 days of making deposit or if the trip is within 14 days the insurance has to be done at time of booking. The price of the insurance depends on the length of your stay 4 nights or less or 5 nights and more. If you purchased the insurance and need to cancel or change you can do so for any reason as long you do it before your flight check in is closed (usually one hour before departure. For last minute cancel, please call 1-866-860-AVOK no later than hour before scheduled departure. The only thing not covered is if you are denied boarding due to not having the required valid passport and/or documents. You will receive your money back in the form of an Apple Vacations travel (redeemable at your original booking travel agent) in the full amount minus the cost of the insurance. The voucher is good toward any Apple Vacation as long as the new vacation is booked within one year of the expiration date on the voucher.   The voucher is non-transferable and non-refundable and will only be issued in the name of the passenger who cancelled and may not be redeemed for cash. In the event that you would like to have the refund in a cash form you can pay extra for the cash back option. The refund will automatically be processed on the credit card that you used for the final payment.
You can also purchase insurance for your children. Not every person on the booking needs to purchase the insurance however if there is a change in per person occupancy rate you will be responsible for the additional cost. By purchasing the insurance you will also get the Best Price Guarantee which means if your package price goes down Apple Vacations will adjust the booking to the lower fare. However everything on the lower fare has to match your booking. Meaning the same date, duration of stay, hotel, room category and class of service for your airline ticket and all components still have to be available. If you think the price went down Sun n Beach Travel will be happy to check it out for you and make adjustments that you qualify for. The insurance also covers, trip interruption, travel delay, medical and baggage and more! This travel protection plan protects the cost of your vacation, your belongings and most importantly you. You can view the whole plan to see everything it covers by going to www.tripmate.com/wdA30. Sun n Beach Travel will be happy to answer any question you may have about the insurance policy.
Examples:
Client in Jamaica went cliff diving and hit a rock and was injured. The insurance cover his medical expenses and even paid for the transport by ambulance more than once since after they released him from the hospital he had to go back for follow up before they would let him fly home.
Client in Mexico moved a sun lounger at the beach and tore of her nail on her big toe needed emergency help to stop the bleeding the Apple insurance paid for it.
This insurance even covers dental coverage should something happen to your teeth.
If a close family member becomes severely injured or passes away and you want to come home early the insurance will cover all cost associated with leaving early. Grandmother had a stroke and the situation does not look good.
With NO insurance if your child gets a bad ear infection and cannot fly home and you have stay you will have to pay out of pocket for his medical expense and also the penalty for changing your and the child's airline ticket along with paying the hotel for staying extra nights.
If you need medical assistance (like you slip by the pool and crack your head open) they will make you pay up front and with no insurance you have no way of getting your money back.
If you have a family emergency at home and want to leave early you will have to pay all the penalties involved with no insurance.