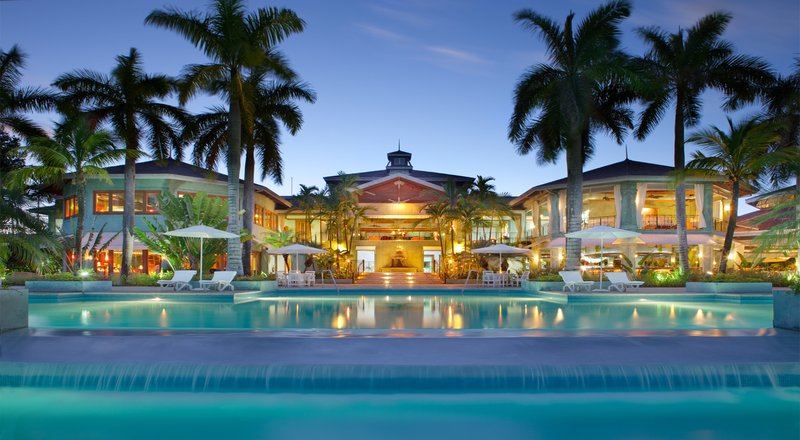 Located on 18 acres of the purest white sand in Jamaica, Couples Negril is a beachfront, all-inclusive playground without distraction from crowds, children, or schedules. The "couples only" philosophy translates into pure romance from the moment you arrive. Whether playing in the sea, dancing under the stars, indulging in spa treatments, or simply lying together in a hammock on your balcony, this vacation is all about you and the one you love.
Black cliffs.Azure water.Mellow vibes. Negril's laid-back pace and natural beauty is a feast for the eyes and soul. Here, anything goes and everyone is welcome. The "Capital of Casual", Negril is at the western tip of the island and is known for its amazing sunsets. Gorgeous Seven Mile Beach features soft white sand and crystalline waters, the perfect complement to a relaxing day. There are endless options of where to stay, from deluxe resorts to moderate accommodations, fine dining and endless activities. In the evening, take a scenic drive along the Negril coastline to famous Rick's Café to watch the cliff divers and the beautiful sunset. Looking for a night out? Travel into town and enjoy Jamaica's rich culture and live reggae music.
From scuba diving to sailing, snorkeling to pool volleyball, the water adventures know no bounds. For land-lovers, there's complimentary tennis (including lessons) and unlimited golf (transfers and green fees included; caddy mandatory at a nominal charge). At Couples Resorts, you'll even enjoy select complimentary excursions. The central cluster of restaurants, grills, and bars encourages you to mingle with fellow guests over cool tropical drinks, freshly prepared local red snapper, or a spirited game of pool volleyball.
Daily Activities & Entertainment:
Reggae Dance Class, Mixology Classes, Beach Volleyball, Sunset Catamaran Cruise, Glass Bottom Boat Tour, Snorkellng Tours.
Nightly Activities & Entertainment:
Nightly entertainment, Sing Along Piano Bar, Staff & Guest Talent Show. Shuttle to local bars.
Classes include spinning, aerobics, yoga, meditation and Pilates. Work out at the fitness center, then refresh at two swimming pools and four Jacuzzis. There's even a private beach section for au naturel sunbathing. Praised as the "Best Spa in the Caribbean" by Travel + Leisure, the Oasis Spa at Couples Negril fully embraces its idyllic setting by offering its exclusive treatments in organic therapy rooms, an open-air thatched hut on the beach, or in the tucked-away intimacy of the Tree House.
When it comes to cuisine, 85% of the menu is prepared with products form local growers and farmers. Feast on the extravagant breakfast buffets at the poolside Cassava Terrace, delight in the nuances of Asian cuisine at the refined Lychee eatery, or explore the gourmet dishes of Jamaica at the acclaimed Otaheite restaurant. Enjoy a cocktail at any of the four bars, and socialize with couples from around the world at the friendly swim-up or piano bars.
There are 5 Restaurants at Couples Negril:
Cassava Terrace Restaurant – Enjoy the warm tropical breezes in this open-air restaurant as you indulge your palate with International cuisine. Dinner is served from 7:00 p.m. until 9:30 p.m.
Heliconia Restaurant – Feast on the flavors of the Mediterranean with a selection of specially grilled specialities and delicious pasta dishes. Indulge in our delicious Dessert Buffet.
Lychee – A taste of Asian fusion served in a casual but elegant ambiance with stunning wall to wall art pieces. Observe our experienced chefs prepare their favorite dishes with the restaurant's open kitchen floor plan. Reservations Required.
The Beach Grill – Join us for casual fare and snacks at this laid-back spot featuring a selection of Jamaican delights, grilled specialties and salads. Open from 11:00 am until 6:00 pm Every evening at 10:00 p.m.the Beach Grill offers a simple menu until 5:00 am.
Otaheite – Reservations are required for this chic restaurant, where you can encounterall the spices, flavor and fusion of fine Jamaican and Caribbean fare. Required Dress Code — Ladies: "semi-formal" — Gentlemen: collar shirt, long pants, dress shoes.