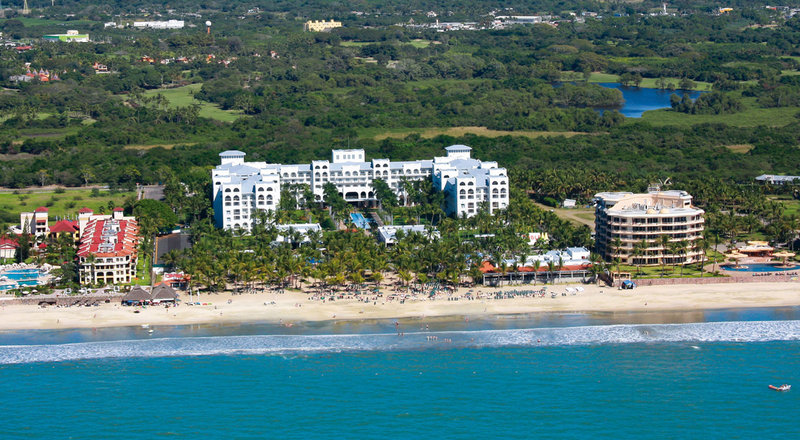 A beautiful building with arches and columns the RIU Jalisco has walkways and beautiful gardens that surround two lagoon swimming pools.
The hotel's acclaimed All Inclusive system offers you the best facilities and service so you can enjoy a perfect holiday in Mexico. You will also find numerous activities and sports to enjoy during the day. You can go diving, play volleyball, windsurfing, catamaran, kayaking, bodyboarding, and many water sports at the beach in the Pacific Ocean. Here, you'll find two fresh water swimming pools, two Jacuzzis, a solarium-terrace, sauna, gym and the "Renova Spa" wellness center with a range of different treatments and massages. Everything you could need to leave behind the stress of everyday life. At night, the different shows and live music organized for you by our RIU entertainers will keep you busy. If you want to go dancing we invite you to the "Pacha" club where our DJs play the best beats. Your children ages 4-14 will have a ball with other children in the Riu Land program, where crafts and sports are just some of the leisure activities at the playground organized by our entertainers.
The RIU Jalisco has 700 rooms all with two double beds, bathroom with shower only, mini-bar, liquor dispenser, safe, and Wi-Fi for a fee.
Five restaurants, one buffet with live cooking stations and themed buffets three times a week, Optional dining (reservations required in advance):"Doña Adelita" Mexican restaurant (buffet), "Gran Dragón" Asian restaurant (buffet), "La Piazza" Italian restaurant (main course with table service; buffet starters and dessert), "La Botana" grill and steakhouse, Snacks 24 hours a day.