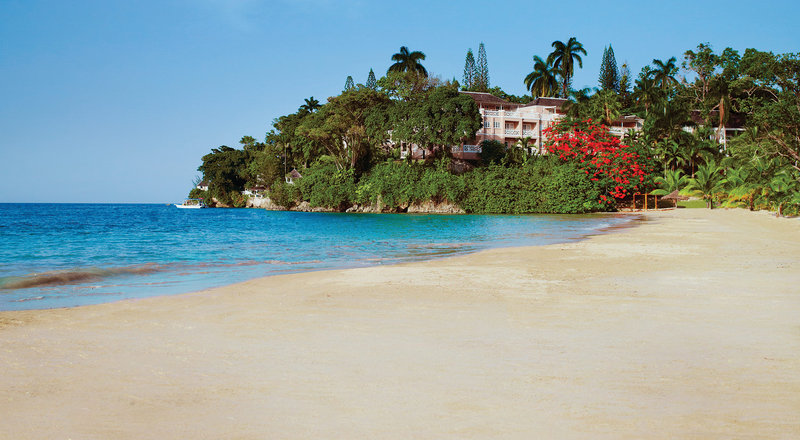 Couples San Souci Apple Getaways
Escape to Couples Sans Souci Jamaica by Apple Getaways, a hidden gem nestled along Jamaica's emerald coast, where 35 acres of oceanfront property await you and your beloved. This vibrant resort, located in the enchanting Ocho Rios, beckons you to a world of relaxation and bliss, where all your worries can be left behind.
Immerse yourself in the therapeutic waters of natural mineral springs, and let the stress of everyday life melt away. Feel the rush of excitement as you scale the famous Dunn's River waterfalls, or simply unwind in a hammock by the soothing sea. With its 24-hour, all-inclusive offerings, Couples Sans Souci is your dream vacation come true.
The resort's design exudes understated colonial elegance, providing 150 suites that offer both seclusion and breathtaking views of the Caribbean Sea. Revel in the ocean vistas with your loved one, and indulge in delectable outdoor meals from the sumptuous room service menu.
For the ultimate relaxation, private cabanas at the cliff's edge offer signature spa treatments, while a plethora of resort activities await your exploration. Dive into the vibrant coral reefs, play a round of golf, receive professional tennis lessons, or set sail into the romantic sunset. Additionally, the all-inclusive package includes select island tours, allowing you to discover the beauty of Jamaica.
Enjoy the luxury of four swimming pools and a stunning stretch of beach, including an area for au naturel sunbathing. Six bars, including a delightful swim-up pool bar, serve unlimited premium-brand liquors and wines. Stay fit during your vacation with the state-of-the-art cardio equipment at the seaside, air-conditioned fitness center, offering classes like aerobics, yoga, acquiesces, Pilates, and meditation. Make the most of the coastal location with an array of non-motorized watersports activities.
As the sun sets, the entertainment continues with a diverse program of activities. From nature walks and bingo during the day to live nightly entertainment, including cabaret, karaoke, themed gala parties, cultural shows, Caribbean Carnival BBQ, and Grand Gala Buffet. There's never a dull moment at Couples Sans Souci.
Indulge your palate at the resort's four unique restaurants, where international cuisine gets a delightful Caribbean twist. Whether it's the elegant dining experience at Casanova's sweeping terrace or a more relaxed meal at the Beach Grill, you'll be treated to authentic Jamaican specialties crafted with the finest local ingredients and spices, alongside a worldly selection of international favorites. Afterward, head to the Balloon Bar, exuding a nostalgic ambiance that takes you back in time.
Rest assured that your stay at Couples Sans Souci contributes to sustainability. Embracing the Apple Vacations Greening Your Life initiative, the resort uses environmentally friendly cleaning products and energy-efficient air conditioners. They also support local growers and farmers, with 85% of the menu prepared using their fresh, local produce.
In this slice of paradise, Couples Sans Souci invites you to surrender yourself to an unforgettable journey of love, relaxation, and rejuvenation. Let the natural beauty of Jamaica and the warmth of this all-inclusive haven create memories to cherish for a lifetime.