Save up to 10% off Apple Vacations
For a limited time, save up to 10$ off on All Inclusive Apple Vacations bookings! Signing up for an all-inclusive vacation has never been easier.
That means you keep more money to spend on your all-inclusive vacation adventures. Or use the savings to go higher on the luxury level of the resort you can choose from. Our buying power is past directly down to you our customer this is our pledge and promise that you will never pay full published price on your Apple Vacation when you book with us!

Save BIG With 4 Easy Steps
Begin planning your beautiful relaxing get away by building your vacation itinerary go to any book now button anywhere in AppleGetaways.com click it and at the booking engine page do the following below:
Pick out the PERFECT vacation of your choosing throughout the website navigation!
Your itinerary recap page will be displayed which looks like the following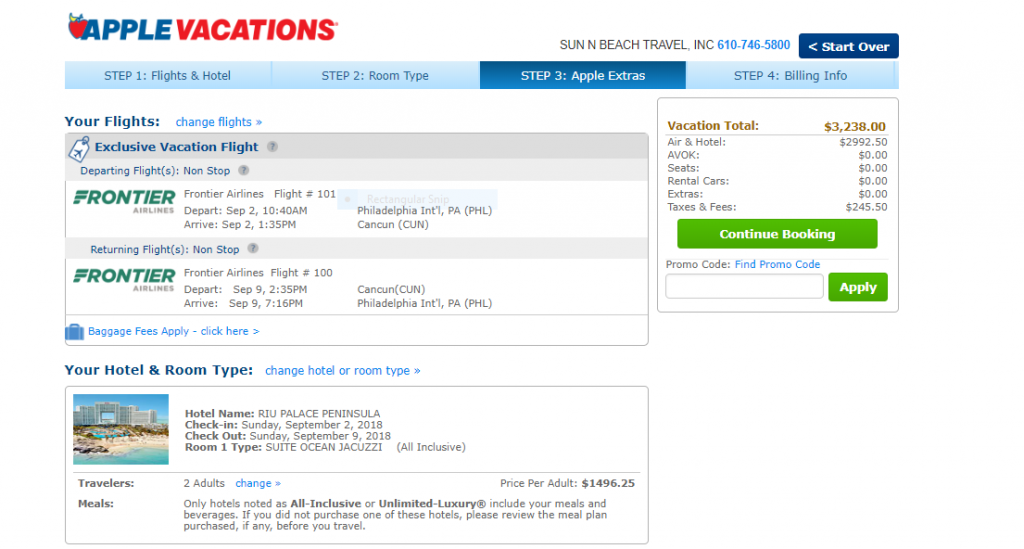 Simply take a screenshot of the page and EMAIL (embed your email into the link) it to us with an easily contactable phone number, and we will promptly respond to you with your discount within an HOUR!
**Please do not hit "continue booking", otherwise, your INSTANT discount will not be applicable**
You will receive a notification email, and from there, we will ask you to continue booking through us to receive the BIG discount! We will verify all trip and travel details, payment information, and will ask for credit card authorization through a secured credit card authorization page.
We highly advise sending the screenshot of the itinerary page for your convenience and ease in the purchase. However, you can send an email with the details of your itinerary that include:
Travel Dates
City of Departure
Destination
Number of Travelers
Number of Nights
Name of Airline
Flight Numbers/Time
Hotel/Resort Name
Room Category
Number of Rooms
AVOK Insurance (Yes or No)
Click on the "Get a Free Quote" badge and fill in the above info completely.
Up to 10% Discount – Frequently Asked Questions
How is the up to 10% Charter package calculated?
The 10% discount applies only to the base price excluding all fees and taxes of the vacation package. There is an additional reservation fee of $25.
For Example:
Base price excluding taxes is $3,000
Discount Amount $300 on a charter package
Package using scheduled air is discounted at 5 % off
Example:
Base price excluding taxes is $2,300
INSTANT Rebate Amount equal $115.00
Does the up to 10% discount apply to special and square deals?
No. When you book an Apple Vacations best buy package deal or a square deal you can only get a 5% discount. Our commission rates are much lower on the special deals as compared to standard vacation packages. Therefore we are unable to provide the same discount as a standard vacation packages. There is a per booking fee of $25. (Not per person)
What happens if I accidentally paid online while planning my vacation?
We will not be able to apply an instant reduction to the price; also, our system will not allow us to provide you with an instant credit. However, we truly care about your business and are more than happy to honor the discount.
Checks are mailed out the week after you return from your trip. This is because Apple Vacations pays us our commission only at the time that you return from your trip. This is done just in case you cancel your trip.
If you accidentally paid for your reservation online, it is your responsibility to contact us and ask for the 10% discount check. There is a booking fee of $25.