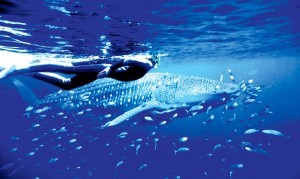 The Whale Shark Adventure Tour will give you a National Geographic-like moment with one big difference – YOU are the one swimming beside these incredible creatures of the sea!!! Whale Sharks – the largest fish on the planet have been congregating in the largest numbers anywhere in the world just north of Cancun in the warm waters of the Caribbean Sea.
These docile giants, who migrate to the area between 15 May – 15 September, can reach up to 40 ft in length and feature huge, box like mouths with which to trap plankton and tiny plant and marine life.
You will travel with small groups in comfortable launches accompanied by an experienced, bilingual marine biologist who will swim with you along side these incredible animals. You will become one of privileged few to witness one of the most unique inhabitants of ocean in it´s natural habitat.
A snorkel stop at a barrier reef on the way back to port is an added bonus to finish off this incredible adventure. Your participation in this eco-adventure means that 5% of the of the cost of your ticket is automatically donated to wild-life conservation programs.
Includes
Comfortable transportation (Club Wagon or Suburban with A/C).
Profession al bilingual guide (Biologist or Naturalist).
Boat trip.
Snorkeling equipment (free tube!).
Snack and lunch on the boat.
What To Wear
Swimsuit under a light cotton clothing.
A hat.
Sandals or tennis.
What To Bring
Ecological insect repellent.
Ecological sunblock.
Sunglasses.
Towel.
Camera.
Duration
Approximately 7 hours.
Starting at $186.00