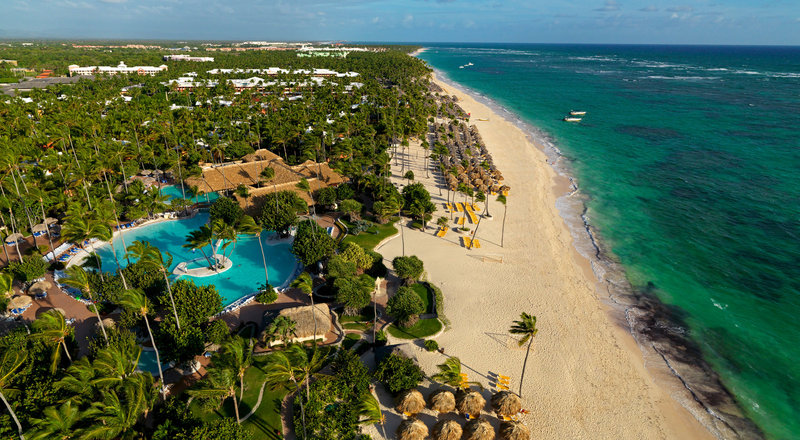 The IBEROSTAR Bavaro All Suite Resort is a part of IBEROSTAR's Premium Gold Collection. This property is an all-inclusive, family friendly, 5-star resort designed to please everyone. It is located only 12.4 miles from the Punta Cana International Airport ensuring very quick transfers to the hotel. Guests of this property enjoy exchange privileges with the nearby IBEROSTAR Punta Cana and IBEROSTAR Dominicana. This property is also perfect for events, such as weddings, conventions, and business meetings. The property is comprised of 598 fully equipped suites including Junior Suites, Superior Junior Suites, Spa Junior Suites, Ocean Front Junior Suites, and Superior Ocean Front Junior Suites. All rooms contain a safe, mini-bar, 24-hour room service, and free WiFi.
There are many dining options available at this property including 4 specialty restaurants, 4 bars/lounges, 1 buffet, and a swim up bar. A variety of international cuisines are offered at the restaurants and buffet. The themes of the specialty restaurants are Mediterranean, Japanese, Cajun & Afro-American, and French. Additionally, classic steakhouse is located by the pool and beach. An onsite fully equipped gym and health club is available to help guests stay fit during their stay. There is also an 18-hole golf course on the property which may cost additionally. A spa and beauty salon offer a variety of services to keep guests pampered.
Many entertainment options are offered to keep the whole family happy. Daily activities are scheduled for children and parents to enjoy together or individually. Children can stay amused all day by visiting the water park, playing tennis, shooting crossbow, playing pool games, playing soccer, making sandcastles, face painting, watching movies, playing beach games, and going Lucy's Kid's Club. Options for adults include riflery, archery, petanque, horseshoes, beach volleyball, Spanish lessons, water gymnastics, dance classes, beach soccer, and theater performances. Adults can also take a trip to the casino. Kayaking, snorkeling, canoeing, windsurfing, parasailing, jet-skiing, and scuba diving (including PADI diving certifications) are also available, however some may have additional costs.